Rivalry Series
2017 RUBBER CITY RIVALRY SERIES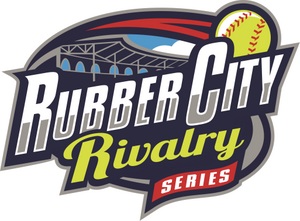 Dates: Monday, April 24th / Wednesday, April 12th 19th, 26th / Thursday, May 4th
Times: 5:30pm and 7:30pm
Tickets are available at the stadium box office for $3 adults and $1 students for the games. Tickets are good for the both games that night.
We will also have the concession stand open. No outside food/beverages will be permitted.
Your team will be playing for the bragging rights and the unique trophy that will pass from team to team each year.
Social Media: Use #RubberCityRivalry on all posts. There are also game specfic hashtags.
April 12th
5:30pm Akron Hoban vs St. Vincent-St. Mary
7:30pm South Range vs Kirtland
April 19th
5:30pm Woodridge vs Waterloo
7:30pm Mathews vs LaBrae
April 24th
5:30pm Smithville vs Chippewa
7:30pm Magnificat vs St. Joseph Academy
April 26th
5:30pm Poland vs Canfield
7:30pm Tusky Central Catholic vs Strasburg
May 4th
5:30pm Ellet vs Springfield JV
7:30pm Ellet vs Springfield Varsity